Shirley Chisholm Was the First Black Congresswoman and Major Party Candidate
fact
---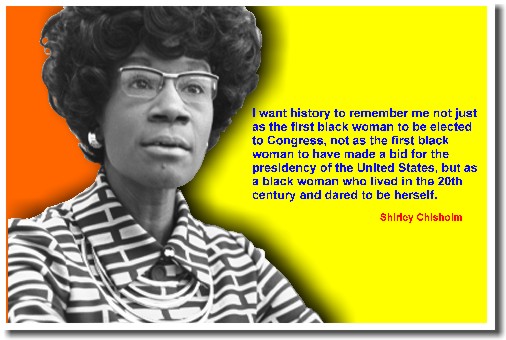 Shirley Chisholm the First Female (or Black) Major Party Candidate (or Democratic Party Candidate), and the First Black Congresswoman
Shirley Chisholm became the first black Congresswoman in 1968. In 1972 Chisholm ran for President as a Democrat, making her both the first female, or black, major party Presidential candidate.[1]
Chisholm also represented New York's 12th Congressional District for seven terms from 1969 to 1983. Outside of politics, Chisholm was an educator and author.
To sum up her rather long title, Shirley Chisholm was:
The first woman to be a major-party or Democratic party candidate.
The first black major party or Democratic candidate.
The first black congresswoman (but not the first woman in Congress, that was Jeannette Rankin a Republican from Montana).
The True Story of the First Black Woman to Ever Run for President
. This video contains a number of interesting facts about Shirley Chisholm.
Voting Rights for Black Women
Many black women were unable to vote until the 1950's-1960s. Women won the right to vote because of woman's suffrage in 1920's with the Nineteenth Amendment. However, some states didn't ratify the amendment until 50's-80's. It took the 65′ Voting Rights Act signed by LBJ and the 24th Amendment that outlawed Poll Taxes to put a stop to any election practices that denied the right to vote based on race or ethnicity.[2]
Considering that the Democrats were historically the party of the south despite its progressive "new deal" wing which included Martin Luther King, Chisholm's accomplishments as a black, female, Democrat only a few years after Civil Rights, Voting Rights, and the 24th are all that more unprecedented.
Shirley Chisholm… Unbought & Unbossed + Exclusive Interview
TIP: See an interactive map of Poll Taxes after 1865 in the south.
FACT: Victoria Woodhull was the first woman Presidential nominee, Shirley Chisholm was the first woman to run as a major party candidate, and Hillary Clinton was the first woman nominated by a Major Party.[3]
Shirley Chisholm: Declares Presidential Bid, January 25, 1972
FACT: Shirley Chisholm was the first black Presidential candidate, President Obama was the first black Presidential nominee and President.[4][5]
Shirley Chisholm: The First Black Congresswoman
. What was it like being a female black Democrat congresswoman in 1968? Probably not great, Chisholm tells the story in her own words.
Article Citations