Eating Tomatoes Helps Prevent Sunburn
fact
---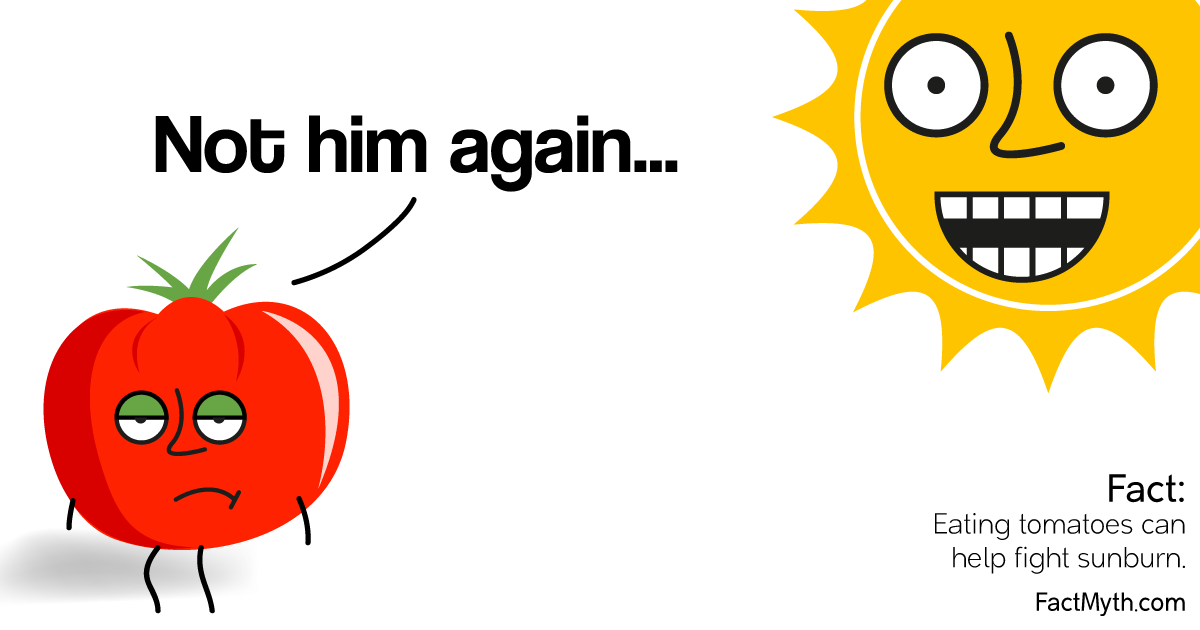 Can Tomatoes Act as a Sunscreen?
Tomatoes contain lycopene, which may help protect your skin from UV damage. This means eating tomatoes may work as a natural sunblock to prevent sunburn.[1][2]
A video about tomatoes and lycopene.
Fun Fact: About 85% of lycopene in the western diet is obtained only from tomatoes.
What Kind of Tomatoes Prevent Sunburn?
All tomatoes contain lycopene, but the most effective way of getting lycopene from a tomato is from tomato paste. You will get more lycopene from a cooked tomato than a raw one.
Can I Eat Tomatoes Instead of Using Sunscreen?
Although eating tomatoes can help to create a natural sunscreen, it is a supplement and not a replacement for sunblock.
What is Lycopene?
To be clear it's lycopene and not tomatoes themselves that help protect against sunburn. Lycopene is an antioxidant and has many functions in addition to acting as a sunblock.[2]
Is There Evidence That Lycopene Prevents Sunburns?
The Mayo clinic gives lycopene a "C" pretty much across the board for it's benefits, including its sunscreen benefits. A "C" means: "Unclear scientific evidence for this use". So take tomato based sunscreen with a grain of salt, or more according to taste.[2]
Conclusion
---
Lycopene, which is found in tomatoes, can act as a sunscreen, but it doesn't replace the need for sunblock.
References
---