Whistle Voice is Different than Falsetto
fact
---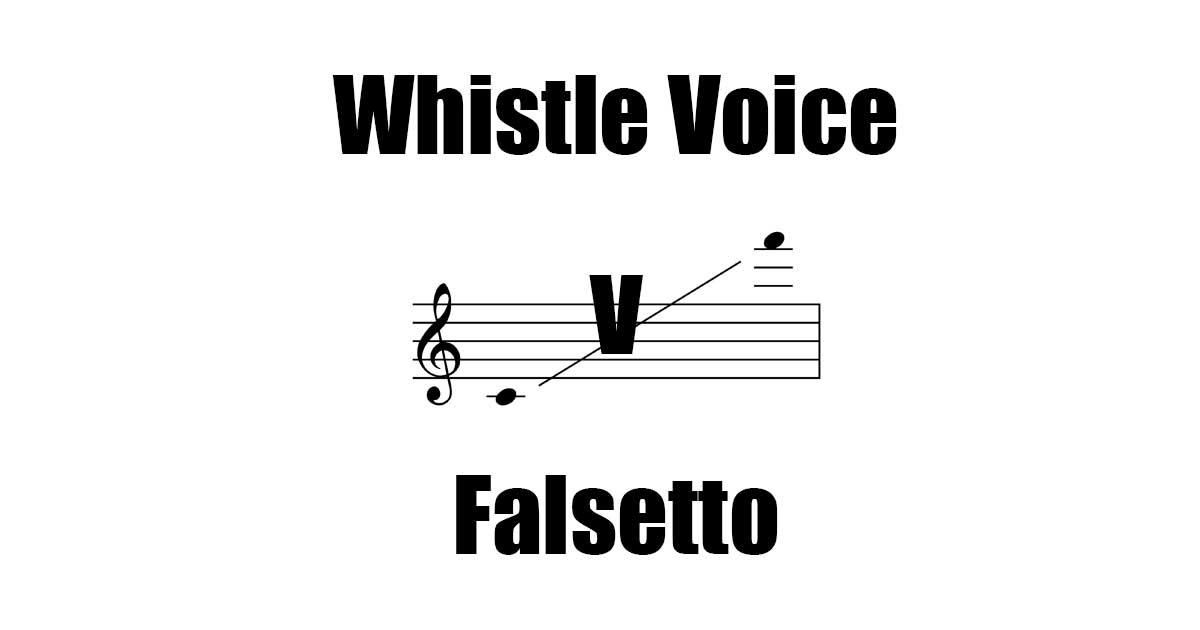 What is the Difference Between Whistle Voice and Falsetto?
Whistle voice and falsetto are both high vocal registers that use alternative positions of the vocal cords and sound like different parts of a flute. Whistle voice sounds like the upper notes of the flute (high and whistle-y) and falsetto sounds like the lower part (breathy and warmer). Both registers are different from "head voice" which is a continuation of the chest register and not a register itself.[1][2]
The easiest way to think of falsetto is as an alternative register (a "false" voice) capable of hitting the same high notes as high chest voice, head voice, and whistle voice, but with a different tone and technique. The key to understanding this is understanding the different vocal registers and "voices".
Before you can understand the difference between whistle voice and falsetto, you must understand the vocal registers.
TIP: Falsetto sounds like Mickey Mouse or Neil Young, whistle voice sounds like the high notes you can imagine an opera singer or Mariah Carey singing. Meanwhile, the other voices and registers discussed below can be described like this: vocal fry is that low crackle-y sound we can all make with our voice (like when Britney Spears says "Oh, baby, baby"), chest voice is regular voice which can hit both high and low notes (the voice most tenors and altos will use in their mid-range), and head voice is that same tenor / alto voice extended to its top range without going into whistle or falsetto (if you start in a regular singing voice and raise your pitch you'll feel like your voice is moving toward your head, this is "head voice". If you feel like your vocal chord positions changed while moving up, you likely just "popped into whistle or falsetto").
The Difference Between "Vocal Registers" and "Voices"
There are 5 "voices" and 4 "vocal registers". Registers are actual vocal chord "positions" and voices are what sounds like is happening:
For singers, there are 5 "voices". They work like this from low to high: Vocal fry -> Chest -> Head -> Whistle (Falsetto is an alternative register covering all high notes from high-chest to whistle). NOTE: "Mixed voice" is between head and chest, sounding as if it has qualities of both. We can also express variations of "voices" for instance we can say high-head voice, or low-chest, etc.[1]
For speech pathologists and scholars of phonetics, there are 4 "registers". They work like this: Vocal fry -> Chest -> Falsetto -> Whistle (Each register is a different vocal chord position).[1]
Notice that, either way, a falsetto is different than a whistle, and that there is no "head register" for scholars of speech. Registers are changes in the frequency of vibration of the vocal folds and are determined by length, tension, and mass.[2] Since all registers originate in the larynx, "head" is not considered an official register and should be instead thought of as the high part of the chest "register", or simply, a "voice".
A simple visualization of the vocal registers and where falsetto fits in. Remember technically "head register" is not a thing, it's "head voice". Falsetto is "an alternative voice" that can hit the notes of high-chest, head, and whistle.
Difference Between Head Voice, Whistle Voice, and Falsetto
Whistle voice is sometimes called head voice, but it's easier to think of head voice, whistle voice, and falsetto as separate things.
Head voice is like a continuation of chest voice that is higher and feels like it's resonating in the head. In terms of registers, we can consider a high chest register "head voice".
Whistle register is like a continuation of head voice, sort of an "ultra high" head voice (like the vocal fry is an ultra low continuation of chest voice).
Falsetto register is not considered head voice, but in common language, some will refer to all registers above chest including head, whistle, and falsetto as "head voice".
Remember there is no official "head register", and this is part of why terminology can be fuzzy. The confusion is only compounded by older works that refer to falsetto as "head voice".[2]
Falsetto vs. Head Voice
. In this video "head voice" is referring to high chest register (not whistle voice specifically).
TIP: It is correct to call whistle voice head voice, and people do all the time. That said, it's confusing not to differentiate between the two. Either use the registers when speaking of voices or differentiate between the whistle and head to avoid confusion.
Adam Lopez made the Guinness book of world records for the highest note sung by a male (hit in whistle voice). Here he explains the whistle register and demonstrates falsetto.
How to Tell the Difference Between Whistle Voice and Falsetto
Falsetto register can be thought of as an alternate voice (or "fake voice") while whistle voice is more like an extension of the chest voice.
Each of the vocal registers uses a different part of the vocal chords and resonates in a different part of the body, so both tone and vocal chord position are different for each of the two registers.
Singers are often able to sing notes in the high tenor range in chest voice, falsetto, head voice, or whistle voice. Which voice a person uses or which one is best for what situation is a matter of taste.[1]
The differences between whistle voice and falsetto can be difficult to hear, due to differences in tone between singers, that said in an exaggerated form it's the difference between Mariah Carey hitting the highest note you can think of (whistle) and Neil Young's highest notes (falsetto).
Whistle voice (head voice) is what Mariah Carey does on the very high part of Sweet Fantasy and what some 80's metal singers do (although they also use falsetto). It's the natural extension of a lower register as it moves from the diaphragm up to the head. It feels like it's happening at the top of the head.
Mariah Carey's Whistle Register Collection.
Falsetto is what guys typically do when they do female voices, Mickey Mouse uses falsetto, and so does Neil Young. It feels like it's being generated behind the jaw or in the throat. Falsetto is also called "false voice" as it's used instead of moving from "chest voice" to "head voice".
Neil Young Harvest Moon
.
What Makes Falsetto and Whistle Voice Different Physiologically?
The tone is the main quality that differentiates between falsetto and whistle voice. That said, there are physiologically different things happening too.
Production of the normal voice involves vibration of the entire vocal cord, with the glottis opening first at the bottom and then at the top. As we move up through the four registers (vocal fry register, the chest register, the falsetto register, and the whistle register) different parts of the vocal chord expand and contract, and "vibratory sensations" to be felt in different parts of the body.[2][4]
TIP: Chest register is sometimes called "modal" register.
Do Women Have a Falsetto?
It's a myth that women can't physically sing falsetto, both women and men are physically capable of phonating in the falsetto register. The myth likely persistent due to the way voices are categorized and the fact that prior to studies done in the 1950's and 60's this was the common thinking.[5]
It's common practice to divide voices like this:
Men's voices are designated "chest", "head", and "falsetto"
Women's voices are "chest", "middle", and "head". In this "head" refers to whistle voice.[1]
That said remember that in technical terms both males and females have:
4 registers: vocal fry register, the modal register, the falsetto register, and the whistle register.
5 voices: vocal fry voice, the modal chest voice, head voice, falsetto voice, and whistle voice.
As you can see from the video women can most certainly use falsetto. 
Conclusion
---
Though they are both in the higher register, whistle voice and falsetto are physically different actions of the vocal cords.
References
---